Puck Janes - Bio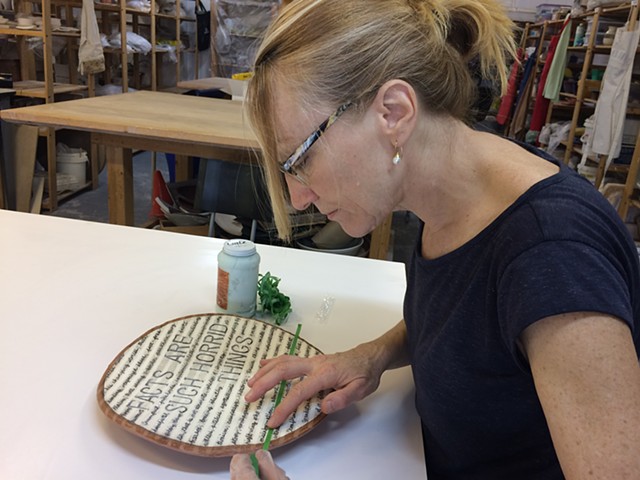 Puck Janes - BIO
www.puckjanespottery.ca
I recently moved to Canmore, Alberta and set up a garage clay studio in 2021. My work space is small - so I am going to focus on low fire earthenware. This is a far cry from my stoneware adventures with my 20 + studio mates at Gladstone Clayworks Cooperative in Ottawa. I moved from Saskatoon, Saskatchewan where part of my focus was the prairie landscape - its subtle beauty in the context of an agricultural economy and history of colonialism. Now I want to explore the pull of the mountains and why we venture out here to the vertical landscape.


Education
I have an applied arts diploma in ceramics from the Saskatchewan Institute of Applied Science and Technology (SIAST) and a BA. I have attended workshops with many of Canada's great fine craft makers including: Bruce Cochrane, John Etzkorn, Mel Bolen, Sandra Ledingham, Charley Ferrero, Diane Sullivan, Michael Flaherty, Katrina Chaytor, Cathy Terepocki and others. From further away: Michael Kline, Lana Wilson, Kathy Triplett, David Miller and others. Recently I was introduced to glassblowing by Al and Joan Heibert and fused glass by Lee Brady.
Exhibitions and Markets
I had two juried exhibitions at the City of Ottawa's Atrium Gallery and the Arts Network Ottawa Gallery in the Shenkman Centre. I was part of a group show in Saskatoon, "Paper, Clay, and Canvas" with Cathryn Miller, Martin Tagseth, and Gale Hagblom. I have exhibited in the Saskatchewan Craft Council's publically funded Affinity Gallery including annual best of Saskatchewan craft exhibitions as well as SaskTerra Group, Mudslingers Critique Group, NAC-SK Networking for Art Collecting, SK Jazz Festival and others.
Teaching
I have taught adult and children hand building from afternoon sessions and weekly classes to 8 week ArtSmart programs in the schools and weeks long summer programs. In art galleries I have worked as a docent, and instructor.
During my fifteen year association with the Saskatchewan Craft Council I was a juried professional craftsperson and a board member for 6 years; 2 years as CoChair. My work is part of the collection of the Saskatchewan Arts Board, the oldest art board in North America.